Meet Our Staff
Kiik Araki-Kawaguchi, Program Coordinator
Kiik Araki-Kawaguchi was a transfer student on two occasions as an undergraduate, and he later attended two graduate programs in writing. He had the privilege therefore of four first-year college experiences - each of them exciting, challenging, confusing (sometimes), valuable (always). His door (TMC Provost & Business Offices) and his email inbox (fye@ucsd.edu) are open to students who would like to know more about the FYE Program or who would like to discuss the challenges of incoming students at a large research university. 
Kiik worked for five years for Sixth College in several roles including - Teaching Assistant, Associate-In, CAT Writing Studio Coordinator, Lecturer and as the Interim Associate Director of Writing for the Culture, Art & Technology Prorgram - before taking the position of Program Coordinator with FYE and TYE. He is thrilled to continue to support UCSD's students, faculty, staff, administrators, graduate teachers and undergraduate discussion leaders (DLs). 
He holds degrees from Cal Berkeley, Santa Clara University, UC Davis and UCSD. 
Contact:
Thurgood Marshall College Administration - Provost & Business Offices
(858) 246-2068
fye@ucsd.edu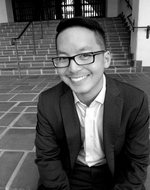 FYE Advisory Group
The FYE Advisory Committee guides every aspect of the First Year Experience Program in its mission to empower incoming students to establish an effective and intentional plan which maximizes their academic success and personal well-being. 
Members (past and present):
Leslie Carver, Provost at Marshall College
Shannon O'Brien, Dean of Advising at Revelle College
Patricia Mahaffey, Assistant Vice Chancellor of Student Life
Sophia Davidson, Academic Counselor at Marshall College
Patricia Scott, Dean of Student Affairs at Roosevelt College
Lakshmi Chilukuri, Professor of Molecular Biology
Grant Goodall, Professor of Linguistics
Allan Havis, Professor of Theatre & Dance
Clare Harrington, Dean of Academic Advising at Marshall College
Matthew Herbst, Director of the Making of the Modern World program at Roosevelt College